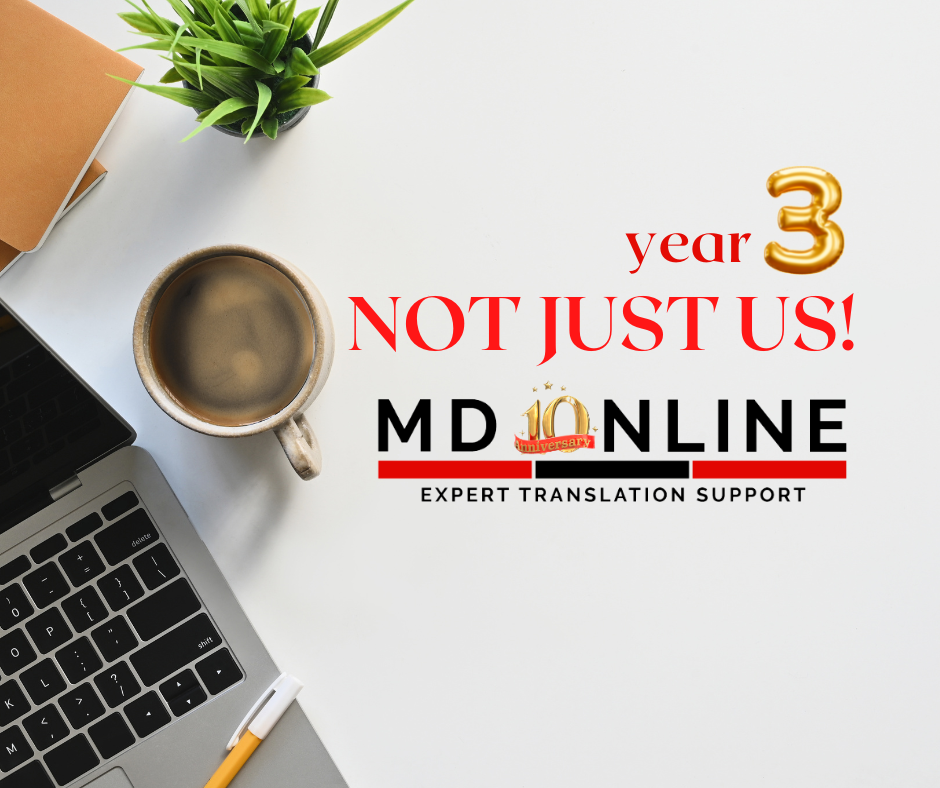 Year 3: Not just us
At the beginning of 2015 we were determined to get more clients. Well, to get any client other than our one and only (client). And we needed a website. Of course we still had nativespeakersonline.com but at that point we knew it was us drawing the business not the page. We had no money to invest so the very first page of MD Online with its very basic prototype of a logo came to life thanks to the recently acquired blogging skills by Dorota.
The process was fast. A simple visit card webpage followed by mailing. This time not with our own efforts sending tens of emails daily. Instead, we purchased a big database and sent out the so-called spamming mails. The result was as expected. Most emails went nowehere, some called us spammers but… some started ordering! That gave us a lot of new energy. We now had more clients and next we needed a program for invoicing.  The free version we found was not sufficient as we grew to over 10 invoices a month. Also the company started to need it first employee!
Here came Agata, our amazing special tasks manager who was our very first employee. We worked alongside long hours- as we needed to manage nativespeakers in all time zones and react quickly to any potential order that might arrive late in the day. There was no time for lagging. We had to prove we could take orders first. Some stresses eventually became a reason to laugh out loud in the middle of the night! We quickly learned that, online, not everybody is who they claim to be. We became almost like secret agent, for example we found out the identity of our supposed Norwegian translator, who appeared to have a second, third and fourth personality on Internet being French, German and Vietnamese!
More about those special times in Agata little memoire 🙂
My adventure with MD online began back in March 2015. Privately, it was a very difficult period for me, but not about that 🙂 . I found I enjoyed almost all aspects of the work, from sending quotes to job assigning, and turned out to be so engaging that I quickly became fully absorbed.

As the first employee of the company, I got to know all the customers, and it's still like that today day! There is always someone from a one of our companies or universities that I connect well with. It's a very nice feeling. I like the fact that I always know who I'm talking to and I know the client's full history and  preferences.

Since I was the first employee, I'm a bit like a McDonald's employee – I've worked in every position and I can come back to each one when the need arises!

When we started, the company was not yet divided into a scientific part (eCORRECTOR) and a business-back office (MD Online). We worked on one e-mail and there were questions from universities and translation agencies. I also remember well our first major client, Dogadamycie, and despite the fact that our business paths parted, I remember that time and cooperation with cool PMs well. One of our first scientific client's, on the other hand, is the Maritime University of Szczecin, and we still work with them today and have amazing memories of the wonderful Ada from AMS 🙂

There were more and more customers, so after about half a year we hired Tomek, the second employee – it's a big deal, especially if we are talking about TOMEK, a man with a fantastic sense of humor! Sometimes it was hard not to spit the screen with laughter. Despite the obstacles that life threw under his feet, he developed great and continues to progress to this day, although not with us, but we remain in good contact.

And finally, the 3rd employee, who is still here and you all love, Ochmiś (now Dr. Ochmańska-Rajch)! We were already in the 3rd group, there were more and more customers, we started to implement systems that began to improve our work, such as Mantreo and CAT. We were able to work in full swing. Further development will be described, in a later post, by Magda.