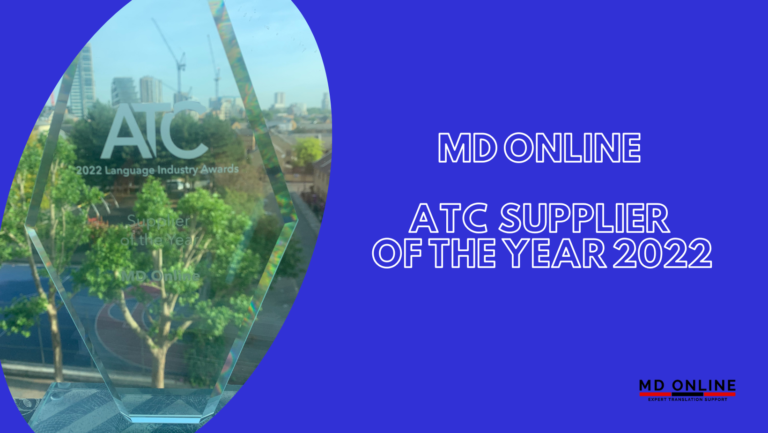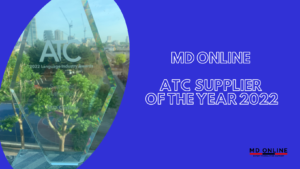 The year 2022 is still a challenge for all industries and many translation companies have had to rethink their operations to meet the modern-day challenges. ATC gathers some of the top-tier companies and freelancers. The ones nominated by the Association of Translation Companies represent the best of the best in our industry – and we are greatly honoured to be included in such a prestigious crowd.
The Stand Out – Be Outstanding
The Stand Out – Be Outstanding 2022 initiative is ATC's event to celebrate cooperation and innovation in the industry. All of the nominees bring something to the table. Their services are modern, quality-oriented and standard-setting. An ATC nomination in this case is a reward in itself as it confirms that this person or company is doing an excellent job. An article by Multilingual, which you can find here, neatly summarises some of the highlights of the entire evening. Being mentioned in such a renowned magazine is another great honour!
MD Online in the competition
MD Online won in the Supplier of the Year category. We know very well that many companies and freelancers do an excellent job and create a better tomorrow for the industry. This is why being singled out by ATC as one of the best is so touching. We started 10 years ago with the mission to help academics and scientists promote their work in prestigious journals – we assisted them in translating and proofreading their publications.
Since then, we have expanded our offer. MD Online now supports LSPs by providing high-quality native speaker language services. Our scope of service includes translation, proofreading, postediting, and many more. The team grew from just the founders. We are a group of experienced project managers with great translation skills and academic achievements. Our online mode of working allows us to broaden our horizons. We can see the world and still deliver the best quality achievable. MD Online's team loves the challenges of the translation industry and does its best to rise above them. We look forward to expanding the portfolio of our clients and proving to be the best supplier of language services.
We hope all Stand Out – Be Outstanding ATC nominees enjoyed the grand gala and wish you all the best in the upcoming year. See you all soon!