As we have mentioned in one of the previous articles about POLOT, so the Polish Association of the Language Service Providers, their goal is to fight for a better tomorrow for the entire translation industry in Poland. Each company tied with this sector may apply for membership and partake in the exchange of ideas and experience. It is an inspiring example of cooperation above divisions and fear of competition.
POLOT is a unique organisation on the Polish translation scene. Its priority lies in the improvement of the Polish translation sector by shaping a single, uniform voice of the companies active within it. POLOT's founders believe it to be the only way to actually influence the shape of the industry and its future. Since 2019, POLOT has been uniting companies offering high-quality translation services and promotes good practices among other institutions. This organisation is also a safe space for companies that normally compete with each other, a place where they may verify their ideas for quality improvement without the fear of losing their competitive advantage.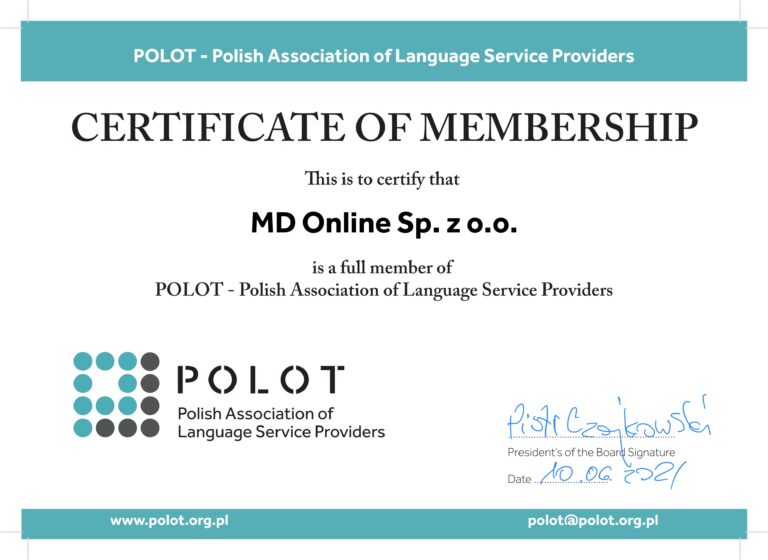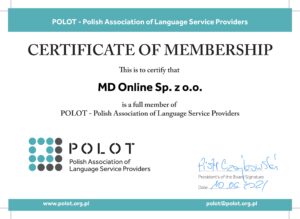 MD Online immediately engaged in POLOT's activities as the good of the industry and its technological development are of great importance to us. During each meeting, we tried to actively participate in the discussions and present our perspective, the view of a company acting as the back office for many major translation agencies in the country and abroad. Our efforts have been appreciated ? the founding members invited us to join them!
As founding members, we can co-shape the Board of the organisation and make sure that our ideas and suggestions reach other POLOT-related companies. We hope that we will successfully perform those duties and implement the new face of the translation industry alongside other POLOT members, regardless of their status. We hope that the Association will grow and those new voices will help us maintain the dynamics and keep our motivation to further fight for our common future.