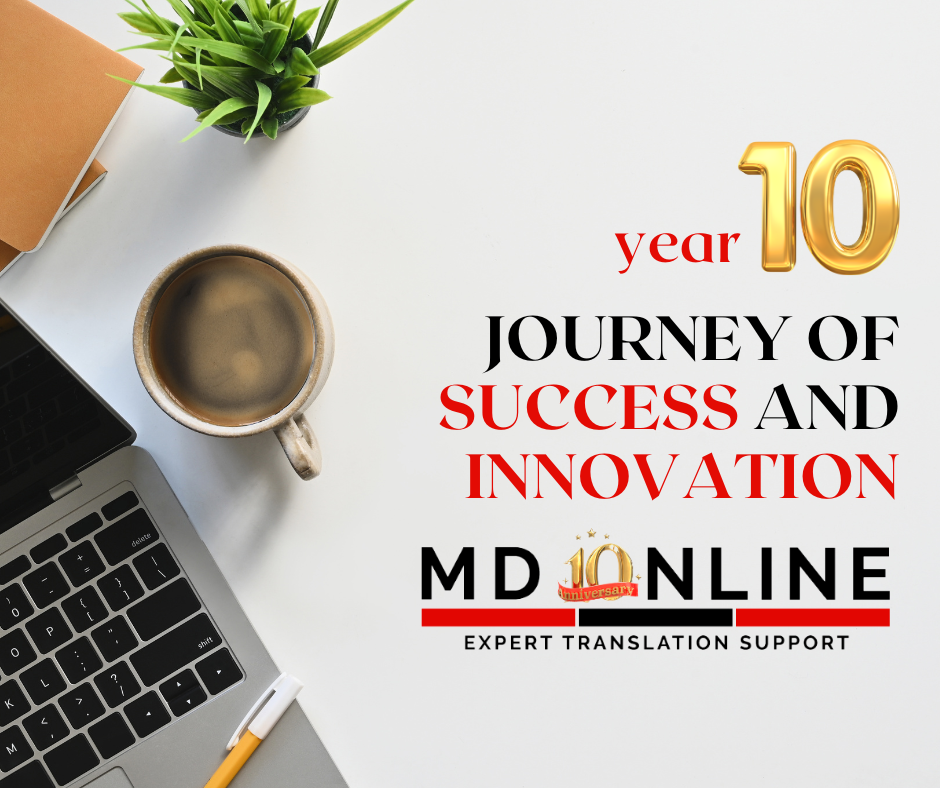 A Landmark Year 10: Journey of Success and Innovation
Year 10 marked a significant milestone in the journey of MD Online. During this time, we experienced growth and embraced new opportunities, gradually expanding our reach on a more global scale.
Awards and Recognition
In year 10, MD Online embarked on an exciting journey of awards and recognition. One of our standout moments was when we decided to apply for a prestigious ATC (Association of Translation Companies) award based in the UK. To make our case, we decided to produce a captivating film that showcased the essence of MD Online, allowing potential suppliers to get to know us better. The film, designed by our team members Mark, Dorota, and Magda, led them to explore their alternative careers in filmmaking. We had a blast filming and editing the movie, an experience that was both fun and enlightening.
You can see our movie here:
We submitted our film, and then, as life often goes, we got caught up in the daily grind, momentarily forgetting about our submission. But fate had something special in store for us.
A Surprise in London
It so happened that Mark was in the UK when we received an unexpected piece of news – we had been shortlisted for one of the ATC awards! Mark made his way to London, a city draped in solemnity due to the Queen's funeral, a gathering of dignitaries from across the globe. The ATC awards ceremony was held in the very same location where world leaders had gathered just a day prior!
As the evening unfolded, there was a touching memorial for the Queen, followed by the awards presentation. The room buzzed with anticipation. And then, to our utter surprise and delight, the announcement came – MD Online was awarded the coveted title of "Supplier of The Year"! It was a moment of pure elation and an affirmation of our relentless dedication to excellence.
A Year of Milestones
That year was not just about awards; it was a year of significant milestones. Mark was awarded the title of "Profesor Instytutu." This recognition paved the way for expanded biomedical translations. With technology evolving in the translation and proofreading industry, Mark and Dorota attended the Berlin Tech Hub event organized by Grammarly.
Our annual team meeting was set against the picturesque backdrop of Gdańsk, a coastal city where we combined work and play, even saving the city during an engaging spy-themed game.
A Decade of Excellence
Perhaps the most significant milestone of Year 10 was MD Online celebrating its 10th anniversary. A decade filled with hard work, dedication, and commitment to providing top-notch translation and proofreading services to our valued clients.
The Future
Year 11 was on the horizon, promising even greater challenges with the emergence of Chat GPT. As we continue to evolve and innovate, one thing remains constant – our commitment to delivering excellence in the world of translation and proofreading. So, stay tuned, because MD Online's story is far from over; it's just the beginning of an exciting new chapter!
Check our social media: Facebook / LinkedIn