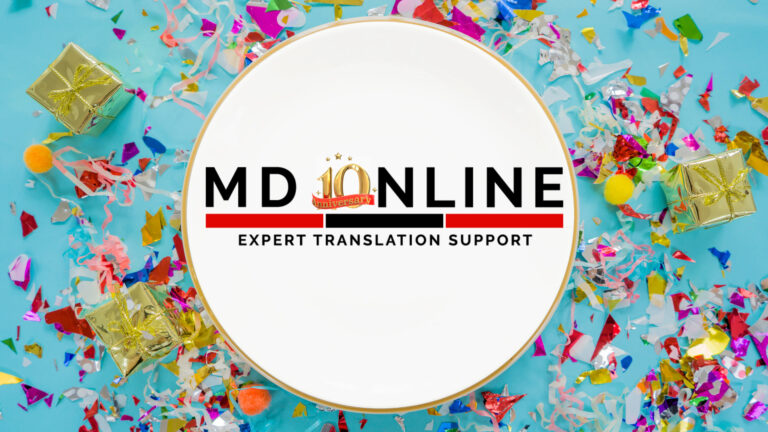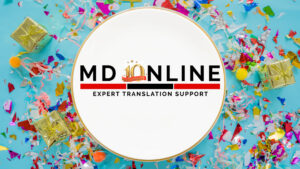 And so it's …10 years since we registered MD Online on a December morning back in 2012 in Poland, Warsaw!  It has been a really exciting journey so far and who knows what the future holds!
MD Online developed by pure organic growth. No external or internal investment, built from scratch. Surprisingly, the founders had no background in translation and were without access to a portfolio of clients or knowledge of tools in the industry.
MD Online is an award-winning company (2022) that delivers quality, expertise, care, and assurance. It is also a fun workplace because we love what we do, and so does our team. Our core team consists of talented individuals with linguistic expertise (including PhDs) who manage our network of hundreds of translators to deliver the high quality our clients demand.
We are celebrating 10 years of MD Online, a period of time when 90% of startups go bust, but we remain a gazelle- a company that doubles its turnover a minimum every 4 years.  These 10 years have witnessed substantial changes in the concept of what translation is, and how it should be carried out. MD Online have embraced these technological advances, including the latest AI tools, to continue to provide excellence in translations to our clients.
Why MD Online? Although we translate a variety of biomedical and clinical texts it does not mean 'medical doctors' online! Simply put, MD are the first initials of the founders, Mark & Dorota. The Online part stems from our dream to build a company that would truly allow us to work anywhere in the world. Funnily, the founders' children still believe it means Mum&Dad Online! 🙂
On this very special year marking 10 years in the history of MD Online each month, we will post a story about a particular year, a challenge or a success. There is a popular saying, an overnight success is 10 years of making, and we feel very proud of the company & team that we have built. These 10 years represent a lot of hard work, determination, belief in a business model, growth and maturity. We hope that you will find the story interesting and perhaps some of the stories will resonate with your own experiences.
Mark & Dorota
P.S. We encourage you to take a look at our commemorative clip!